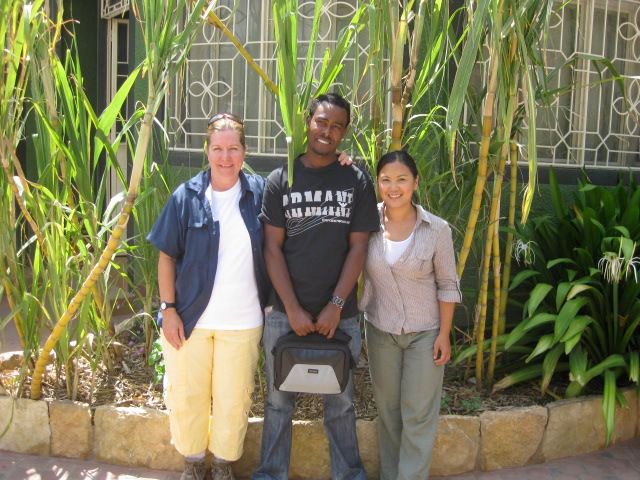 Margie Memminger (left) and Shara Enay presented Alemayehu Jiru with a new Netbook on behalf of With Aloha. Photo courtesy of Shara Enay
Ethiopia ambassadors Margie Memminger and Shara Enay from Honolulu, Hawaii, raised $870 for laptop computers and soccer uniforms for villagers in Ethiopia.
With a matching donation from With Aloha, one Toshiba laptop and one Hewlett Packard Netbook were purchased to help Ethiopian residents Alemayehu Jiru and Zerihun Kassa communicate and accomplish more duties in the field that will benefit their fellow villagers.
"Thank you for your efforts," Alemayehu Jiru said. "I will never forget this day for the rest of my life. Thank you very much, all of you."
Alemayehu was stunned that many people from Hawaii—whom he had never met and live on the other side of the world—went out of their way to do something nice for a complete stranger and his village.
"We really appreciate your support," said Zerihun. "Thank you very much for your gift."
The remainder of the funds was used to purchase 45 jerseys for soccer players from Hurso, Magaladi and Garmaam. An inter-village tournament was held in Dire Dawa, Ethiopia, with the help of Global Hope Network International volunteers to help promote unity, sportsmanship and fellowship among the three villages.

Donations were used to purchase 45 jerseys for soccer players from three Ethiopian villages. The inter-village tournament was designed to unite the villagers. Photo courtesy of Shara Enay
"On the day we handed out the jerseys, the field in Hurso was packed," Margie recalled.
"The players were so excited. It was like we were handing out gold!" Shara added.
As soon as the players suited up in their new jerseys, their attitudes completely shifted.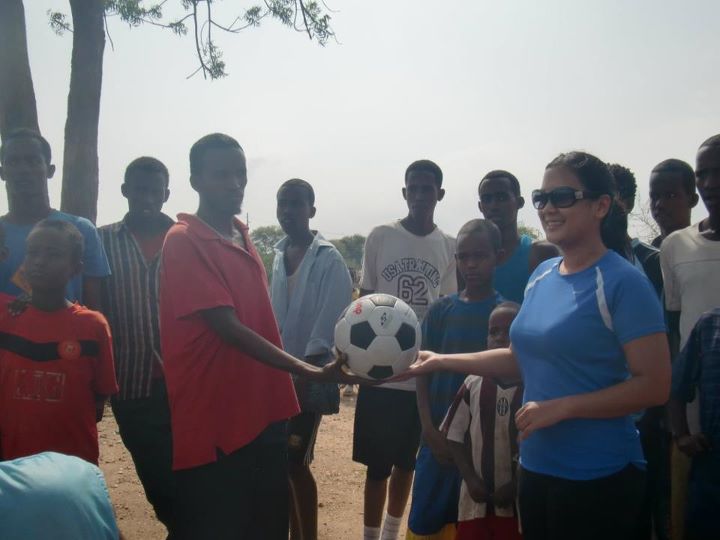 With Aloha donated a pair of shiny, new soccer balls to the overall champions in the three-day inter-village soccer tournament. Photo courtesy of Kevin Gooding

"They were proud to represent their village and they behaved like a real team," said Margie.
At the end of the three-day tournament, the boys from Hurso were named the overall champions. The team was given a pair of shiny, new soccer balls, which were also donated by With Aloha.
"We're glad we could bring smiles to the villagers' faces," said Shara, "even if it was just for a few days. This just goes to show how small gestures can make a world of difference."
(Click on the slideshow frame to enlarge the photos.)