Since April 2011, Chef Alan Wong has donated $11,487.50 to the With Aloha Foundation. This generous donation comes from sales of his Blue Tomato cookbook (Watermark Publishing, 2010), as well as special tasting menus at his two restaurants, Alan Wong's Honolulu and The Pineapple Room by Alan Wong.
Chef Wong also supported the April 9th With Aloha fundraiser for the Tohoku University Hospital—Japan Relief Fund and served as a member of the event advisory board.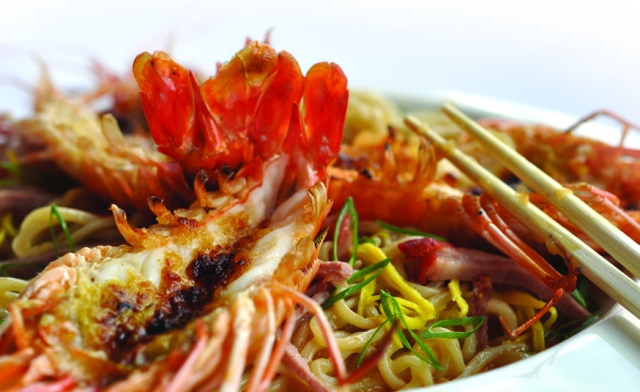 Kahuku Prawns with Red Onion Butter and Saimin Noodles
The Blue Tomato: The Inspirations Behind the Cuisine of Alan Wong is a bold, beautiful look at what's next in contemporary Island cuisine. Chef Wong is a tireless ambassador for Hawaii Regional Cuisine and a leader in America's farm-to-table movement. Now this James Beard Award winner shares more than 200 recipes in 70 elegant dishes—from Coconut Butter Poached Lobster to Unagi Roulade to Wagyu-Wrapped Ahi. The Blue Tomato shares the stories behind the recipes, revealing the fun and philosophy of creative cooking. To learn more about the book, click here.
Ongoing through Dec. 31, 2011
Purchase The Blue Tomato at Alan Wong's Honolulu or The Pineapple Room by Alan Wong before Dec. 31, 2011, and a portion of the proceeds from Chef Wong's cookbook will be donated to the With Aloha Foundation. (Note: Only purchases made at Chef Wong's restaurants are eligible.)
Photos: Watermark Publishing