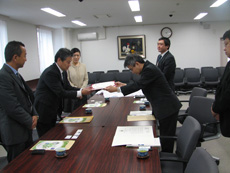 Tohoku University Hospital officials presented a "Certificate of Appreciation" to the With Aloha Foundation and to the people of Hawaii for their generous donations.
Photos courtesy of Tohoku University Hospital
By Scott Schumaker and Sherie Char
On April 22, 2011, With Aloha traveled to Sendai to meet the officials of Tohoku University Hospital. They were accompanied to the meeting by Japanese opera star and Tohoku resident Caoli Cano. (Fun fact: Cano flew from Japan to perform at With Aloha's April 9th fundraiser in Honolulu. The event raised more than $150,000.)
A proclamation prepared by the State of Hawaii House of Representatives was presented to Tohoku University Hospital in addition to chocolates donated by Hawaiian Host and Big Island Candies, and bags of Lion Coffee courtesy of Russell Yamamoto.
Tohoku University Hospital officials expressed their gratitude at how quickly a fundraising effort was organized. The With Aloha funds were the first to reach the hospital.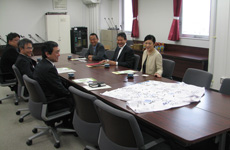 Tohoku University Hospital officials marvel at the heartfelt messages that were written on the Aloha shirt.
The hospital staff's heroic efforts to save lives after the March 11 earthquake and tsunami are extraordinary. During the day, as many as 3,000 patients would approach the hospital's walk-in patient screening to seek treatment. Tohoku University Hospital also has the region's only heliport and shortly after the quake, they were handling more than 50 life-flight rescues daily.
"At the height of the tragedy, the emergency room included the hallways and at certain times, they had more than 1,000 people in emergency," said Duane Kurisu of With Aloha.
Since With Aloha's April 9th fundraiser, additional donations for Tohoku University Hospital—Japan Relief Fund continue to be received through in-person and online contributions. With Aloha organizers are extremely touched by everyone's generosity and heartfelt support.